English
School Mission: "to become beautiful inside and outside"
Develops women who build and uphold "truth and knowledge" by the 5 principles of Koka education.
~Softness and delicacy change with the times~
Kyoto Koka Junior High School
(womens only)
Founded in 1947
Principal : KIYOTO SAWADA
Pupils : 107
Kyoto Koka Senior High School
(womens only)
Founded in 1948
Principal : KIYOTO SAWADA
Pupils : 343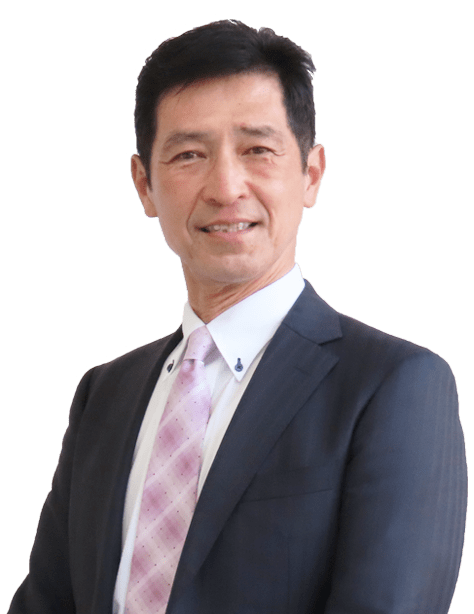 Koka education
Approaches in Teaching
Our practical learning approach such as problem solving enables students to cultivate the ability to think critically, make decisions appropriately and challenge themselves.
Our experience-based learning approach will help students discover new things and be proactive. They attend lessons of calligraphy ink making, Japanese theatrical "Noh" art, and tea ceremony. They will also have internship experiences at nursery schools.
Our interactive approach helps students improve their communication skills. Students make presentations and discuss different matters actively with their teachers and classmates
Special Features of Educations
Etiquette & Manners / Traditional Culture / Cross-cultural Understanding / Language
Foundation
Buddhism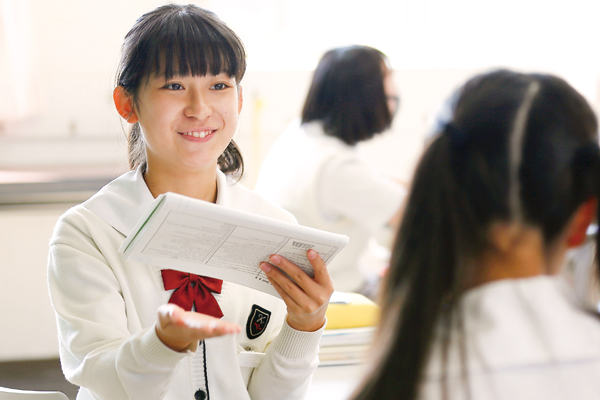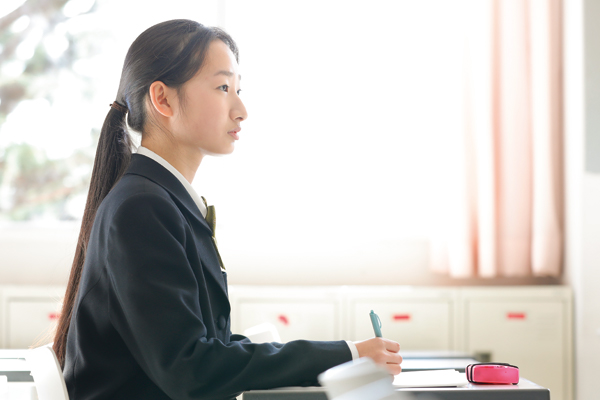 Buddhist Education
Our all-round education "Koka liberal arts" is based on the concept of Buddhist education.
Students learn values of Buddhism which will be the basis of learning liberal arts.
Our school will help students to the realization of the gratefulness of living through inquisitive, experience-based interactive activities which incorporates the "Heart of Koka" in their daily lives. The "Heart of Koka" is a part of our establishment's principle.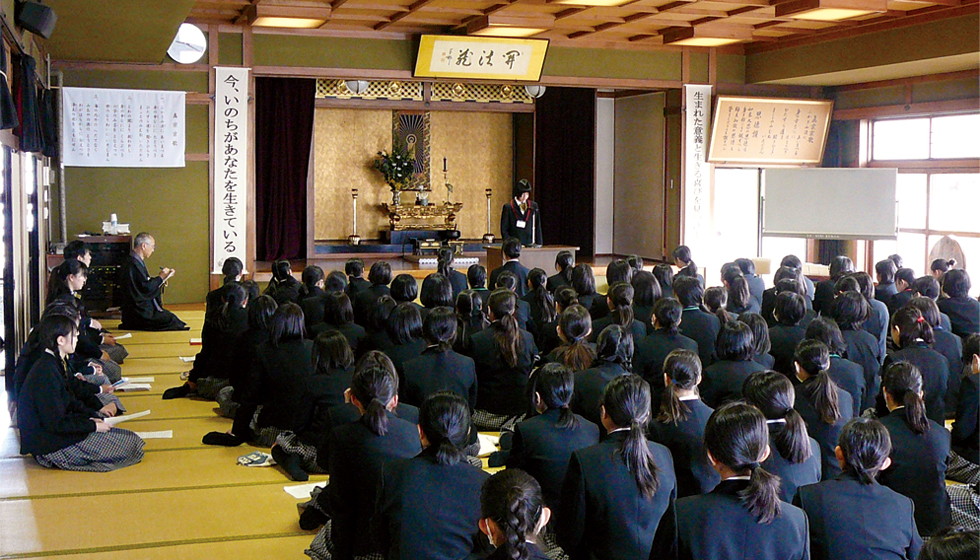 Education in courtesy & manners
Courtesy and manners are fundamental in human relationship. They are indispensable for building trust. Consideration is an essential element in politeness. Kyoto Koka's two-way approach to education encourages students to better understand the concept of self-realization based on "consideration for others".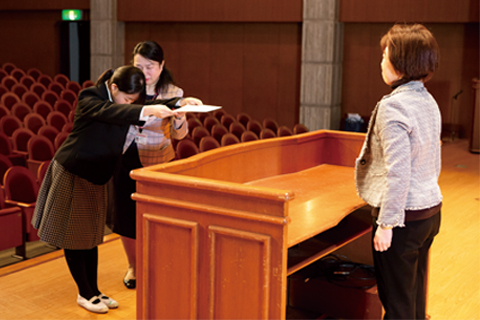 Education in Traditional Culture
By learning about Japanese traditional culture that has been nurtured over a long history, students have the opportunity to develop their sensibilities. Under the through instruction and supervision of world-leading instructors in various expertise, students will acquire the skills and experience the exquisite art of traditional Japanese culture.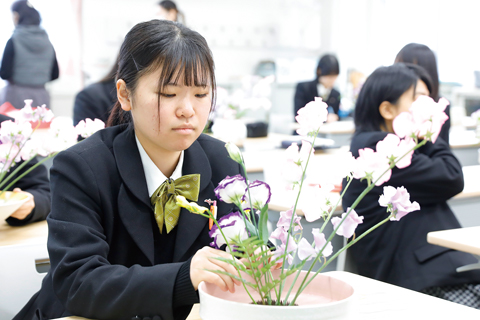 Education for Cross-cultural understanding
At Koka, we cultivate students with a sense of open-mindedness and accepting of people with varying cultural backgrounds and different sets of values.
Our school is located in Kyoto, a melting pot of traditional and modern culture where locals and tourists alike come to visit.
Taking advantage of the location, students have the opportunity to learn and see things from different perspectives.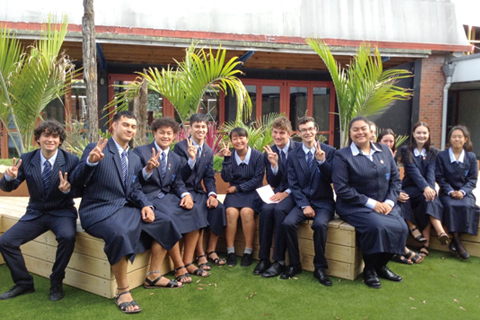 Language education
In a globally advanced information-centric society, problem-solving skills as well as efficient and effective communication is essential. Our school provides ample opportunities for students to express themselves by putting ideas into action.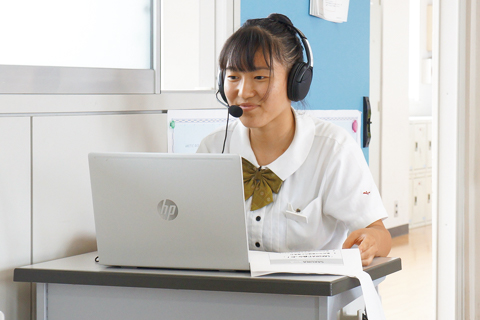 Senior High School
In pursuit of great potential with rich individuality at the time of development of personality
Medical Course (Iryo kouken Course )
Students in this course have a strong motivation towards helping others and pursue future careers in the medical field such as pharmacy, nursing, and rehabilitation.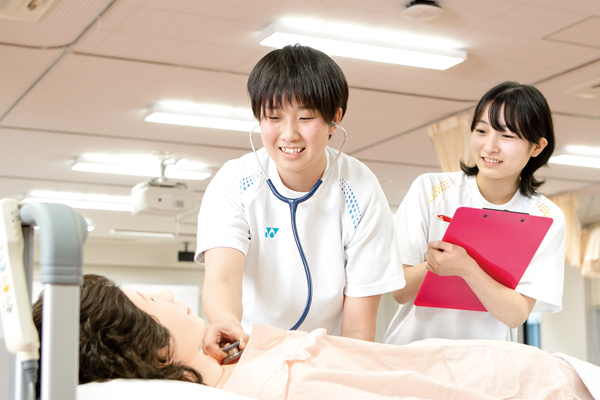 Creative Course (Mirai souzou Course)
Students in this course strive to create their own future independently and positively by experiencing various approaches to learning.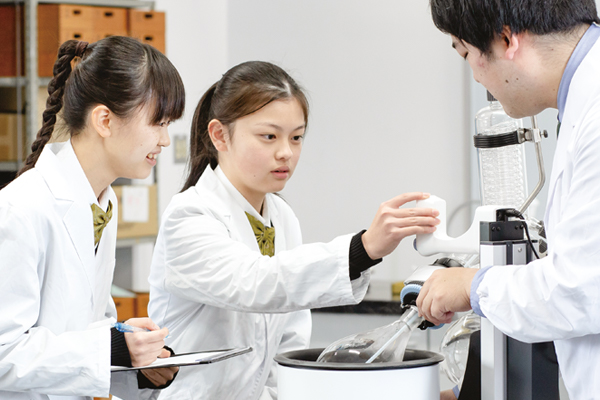 Global Course (Kokusai chousen Course )
Students in this course aim to acquire diverse cultures and the mastery of English while aiming to be actively involved in the world by cooperating with others.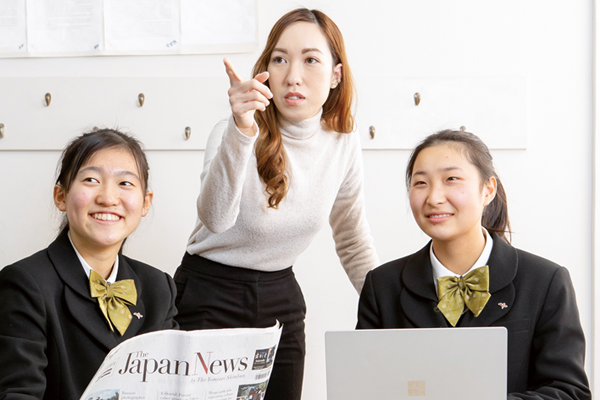 Junior High School
Fulfilling school life through balance of school work and club activities allows students to acquire basic abilities to leap into the future.
This six-year program during the junior high school and senior high school years aims to have students admitted to prestigious national, public and private universities before graduation from senior high school. The goal of this program is to have students gain a solid foundation in basic academics during their three years in junior high school.